Idralia Face Cream
Regular price
Sale price
75,00 €
Unit price
per
Idralia is one of the Officina Profumo-Farmaceutica di Santa Maria Novella historical preparations. A blend of tradition and innovation, the Idralia Face Cream features a carefully crafted functional formulation that enhances the ingredients selected to be part of them.
The iconic Idralia Face Cream has given rise to a daily moisturizing routine in 5 phases: Exfoliating Cream, Eye Contour, Serum, Face Cream and Mask are products suitable for every skin type, ready to reveal its most radiant version.
Read more
Idralia Face Cream
Regular price
Sale price
75,00 €
Unit price
per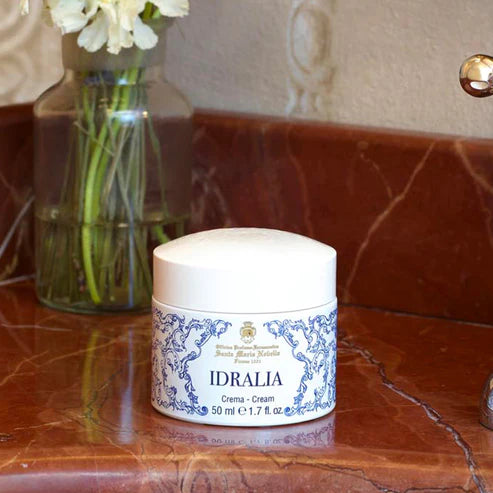 Routine

Massage a small quantity onto the cleansed face, with in circular movements for about 10 seconds. This product can be used both in the morning and in the evening.
Lovely face cream
So happy with this purchase. Purchased it in the Piccadilly store and the staff were friendly and helpful. I was also given samples and I have now ordered the serum and I am ordering the eye cream.
The face cream makes your skin feel silky soft and it smells amazing. Would definitely recommend purchasing this.